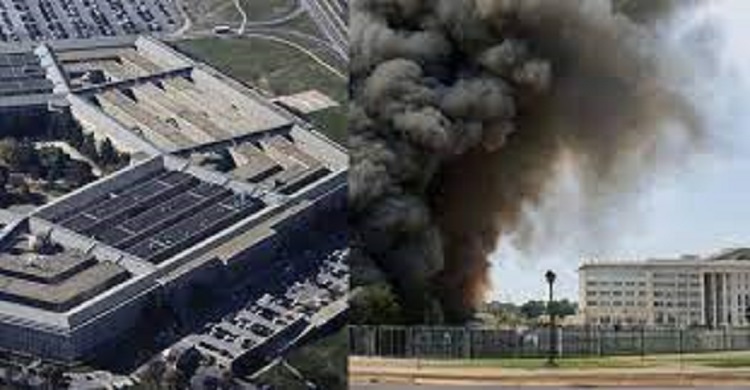 On Monday morning, a verified Twitter user, Bloomberg Feed, posted a disturbing tweet about an explosion close to the Washington D.C. Pentagon Complex. The user had no affiliation with the legitimate Bloomberg media organization. The user attached a picture showing a terrifying cloud of black smoke adjacent to the structure resembling Pentagon to the tweet. Further examination indicated that the image was fake. People believe that the image is AI-generated. Nevertheless, numerous social media accounts shared it, leading to a brief decline in the stock market as false information circulated.
Why People Believe it Was AI-Generated Image
While it remains unconfirmed whether the image is AI-generated, it does exhibit certain hallmarks associated with AI-generated images. For instance, the columns on the purported building in the hoax photo exhibit varying sizes, and the fence appears to blend into the sidewalk in some places.
Numerous social media accounts contributed to the dissemination of the photo. It is worth noting that most accounts that reshared the image seem to have affiliations with conspiracies or the conflict in Ukraine.
Debunking by Local Authorities
The area Fire Captain, Nate Hiner, stated that it took five minutes to ascertain the falsity of the false explosion reports.
At 10:10 a.m., Hiner was in a meeting when he received the initial call. Promptly leaving the meeting to investigate. He noticed he got no prompts from First Due. First Due is the Northern Virginia emergency software. This software notifies him through push notifications when first responders get dispatched for significant incidents such as fires.
Subsequently, he examined his mobile data terminal, a laptop that comprehensively lists all ongoing 911 incidents in Arlington. To his surprise, there were no indications of any activities near the Pentagon.
Consequently, he decided to personally browse social media, anticipating eyewitness accounts on Twitter. Disappointingly, he discovered a lack of any substantial information. Instead, he encountered only the manipulated photograph of the explosion.
Realizing the need for official confirmation, he promptly contacted spokesmen from the Defense Department and the Pentagon Force Protection Agency. By 10:27 a.m., he took to Arlington Fire's Twitter account to unequivocally declare the falsity of the reports.
The featured image is from knewz.com