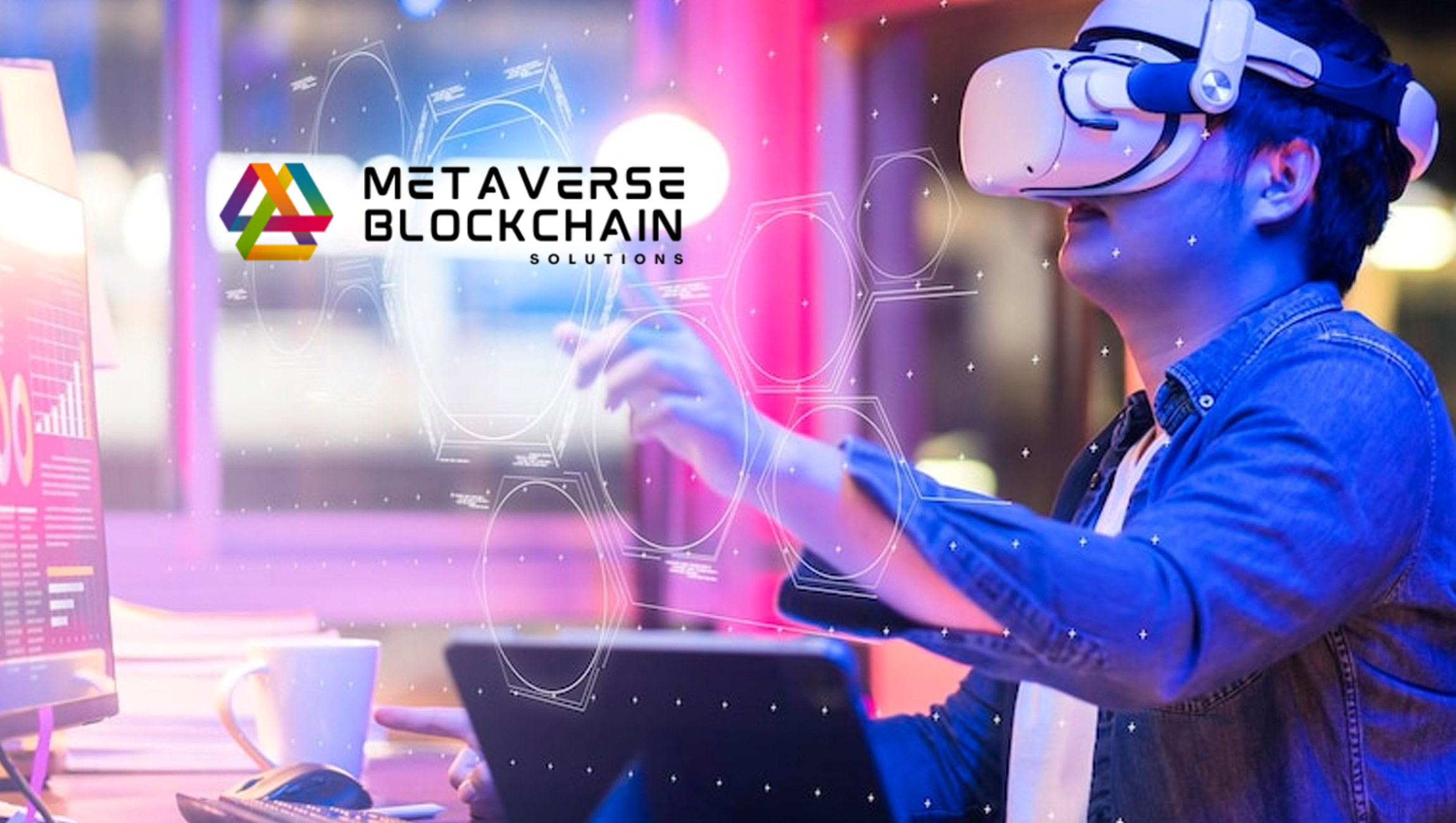 In the face of speculation about an impending cryptocurrency "winter," blockchain technology has managed to maintain its relevance, especially with the emergence of the industrial metaverse. The utilization of cryptographic technology has surged in the wake of this metaverse revolution, as blockchain becomes an essential component in enabling interactions and decision-making within this virtual realm that combines the internet and spatial communications.
The metaverse depends on technologies like blockchain to allow interactions with others during decision-making and also peer-to-peer interactions. It combines both the internet and spatial communications.
How is the metaverse developed with Blockchain?
In the metaverse, blockchain makes up the fundamental technology that maintains a record of all the transactions that take place. This record performs several functions, especially for the metaverse. This record creates the basis for developing 'trustless" online transactions and relationships.
The blockchain records all transactions that take place inside the metaverse, providing an accurate and complete account of all the activities to guarantee security and transparency. It also allows the creation of voting authentication and special identity confirmation systems to ensure the operation of Decentralized Autonomous Organizational rule (DAO)
Will the industrial metaverse be the future blockchain frontier?
Siemens and several other international companies have started exploring practical applications of blockchain that are connected to the metaverse. PricewaterhouseCoopers (PwC) stated that blockchain has promising practical applications. This is obvious with its abilities in asset tracking, counterfeit detection, quality assurance, identity management and supply chain monitoring.
These technologies play a very important role in promoting regulatory compliance and providing a more transparent alternative to bureaucratic audit procedures.
In July 2022, The World Economic Forum (WEF) made a statement on how cryptocurrencies, NFTs and blockchain could cause a massive increase in the use of the Metaverse. Members of the forum at that time said, "Metaverse is here already". According to them, the metaverse had the potential to turn the workforce around.
During the (IIoT) Industrial Internet of Things event held in October 2022, Dr Parris Colin, the Chief Tech Officer of GE Digital mentioned some of the benefits of industrial blockchain.
The executive explained how the Internet of Things, blockchain and digital twins could help the use of the industrial metaverse. It would range from virtual, mixed to augmented reality (VR/MR/AR) devices to picture data for users.
Leading Blockchain Platforms in the development of the Metaverse
Many blockchains have been useful in building popularity among Metaverse platforms. We have highlighted some of them in this article.
Cardano
Cardano is a creative contract platform that is still being developed. It addresses some of the sustainability and scalability problems facing Ethereum. Pavia, for example, is Cardano-powered. It is a metaverse platform that makes use of blockchain technology to develop a separate environment for its users with little gas fee and reduced carbon.
Ethereum
Ethereum is one of the most popular blockchains. Its platform uses smart applications that operate to reduce third-party interference or fraud to a minimum.
It houses many NFTs and digital assets that are related to blockchains. These technologies have been used to develop gaming experiences, virtual worlds and digital art. The Sandbox, Cryptovoxels and Decentraland are all metaverse platforms that use Ethereum.
In April, the Ethereum blockchain received a $33 billion advancement to its present Shanghai blockchain ecosystem. The advancement will likely minimize the energy-draining mining through a proof-of-stake strategy for traders.
Solana
Solana was created to control the next set of metaverse platforms. It currently controls the Star Atlas and many others –as a secure, energy-efficient and scalable tool.
Solana provides an interactive and immersive experience for users to communicate with themselves and also their environment— with an emphasis on online land exploration.
A top Metaverse avatar, Ready Player Me has incorporated Solana for developing compatible assets for Mini Royale: Nations. The integration happened in March and it comprised data, avatars and several digital contents.
Polygon
The polygon blockchain is a scaling solution developed to make Ethereum more efficient and scalable. It uses the Plasma technique to achieve high scalability.
Polygon borrows ideas from Ethereum and works like a Layer 2 protocol. This makes it an improved version of Ethereum while maintaining its main features.
Binance Chain
Binance Chain was developed by the makers of Binance, the world's biggest cryptocurrency exchange. The blockchain aimed to develop other metaverse platforms like the Ultiverse
Binance Chain allows users to customize and import personal NFTs. It has an AI engine that adjusts (NPCs) Non-playable characters based on the activities of the player.
Recently, the US SEC suppressed Binance and several crypto-exchange platforms based on alleged violation of protection laws. Binance, Coinbase, Kraken and other platforms denied all the allegations.
Why Blockchain Technology?
Blockchain has proven to be very useful, especially for the following reasons;
Security
It has become more difficult to store and transmit secure metaverse because data is stored in exabytes. Blockchain technology is particularly useful for environments that are not centralized because it allows users to manage data without interference.
Trust
Tokens are storage instruments that transmit authorization keys, personal data and information in an encrypted format. It promotes people's trust in the environment by preventing unauthorized access to private information.
Integration with the World Economy
Digital assets and cryptocurrencies are a specialized analogue of conventional money and take on metaverse dealings
Development of the 'Green' Metaverse
The expansion of green blockchain is one of the most thrilling trends so far. The world will probably see more technologies that are energy-efficient, especially as it aims to minimize carbon in the environment. Some of the energy-efficient technologies to look out for are Cardano and Solana.
Conclusion
As the metaverse continues to evolve, some blockchain platforms are already taking the lead in shaping this new industry. These technologies are poised to dominate the platforms and experiences that await users in the rapidly expanding online world.
Photo Credit: MartechSeries