In a recent study conducted by DappRadar, it was revealed that the Metaverse projects topped web3 investments, overshadowing the dominance of web3 infrastructure firms that held sway over the market in 2022. The report emphasizes a substantial decrease in investments within the web3 ecosystem during 2023, mainly ascribed to the remarkable upsurge of interest in artificial intelligence (AI).
Between January and June 2023, the metaverse witnessed a notable investment of $707 million, representing a substantial decline from the remarkable $7.6 billion amassed in the preceding year.
Despite the overall decline in investment in the metaverse from Web3, its impact within the ecosystem experienced a remarkable surge, representing 44% of the total funding, a notable increase from the previous year's 27% share in 2022. This has made it exceed Web3 infrastructure companies which were on top last year.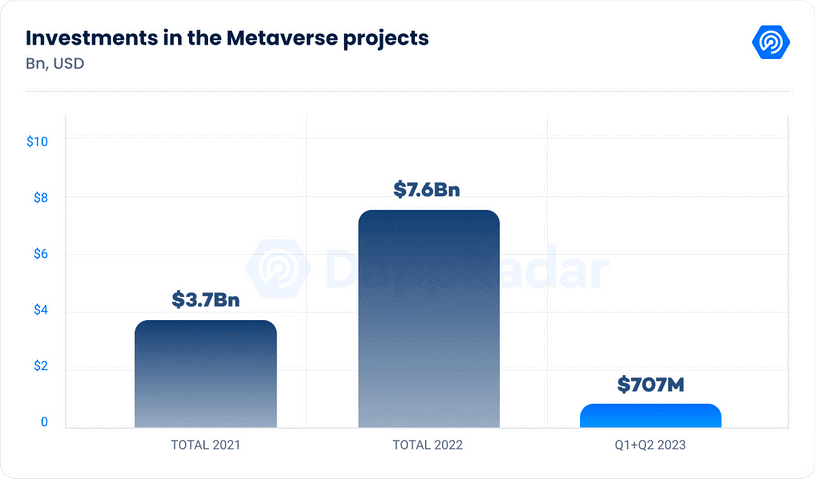 The Influence of AI on the Metaverse
Lately, the metaverse has become a significant subject of conversation, capturing the interest of notable companies like Meta and Microsoft, who envision the creation of virtual realms that could potentially redefine the future of work. Amidst the pursuit of tackling the metaverse's obstacles and enhancing its tangible influence, companies such as Transmira are assuming a prominent role. Nevertheless, the surge of artificial intelligence (AI) has diverted attention away from the metaverse, leading to a significant decline in its funding. Meta CEO Mark Zuckerberg notably announced the company's decision to cut back its investments in the Metaverse and focus on generative AI.
Robert Rice, the visionary founder of Transmira, captivated the audience with his keynote speech at the Blockchain Conference in London. In his address, he highlighted the immense power of combining artificial intelligence, blockchain technology, and the metaverse, underscoring their potential to revolutionize the way we live and interact.He expressed his belief that this powerful combination holds the key to achieving the internet's ultimate objective of fostering authentic virtual connections.
VR and AR as Catalysts for Metaverse Growth
DappRadar's report also sheds light on the transformative potential of virtual reality (VR) and augmented reality (AR) technologies within the metaverse. For example, the recent unveiling of Apple's Vision Pro headset led to a 5% boost in metaverse tokens, including MANA and SAND.
In a forward-looking analysis, the report anticipates a substantial economic impact from the metaverse, projecting an annual injection of around $800 billion to $1.4 trillion into the regional economy by 2035, underscoring the tremendous economic opportunities linked to this emerging domain.
Photo Credit: